I am thrilled to offer my hearty congratulations to Yvonne Woon, whose debut novel, Dead Beautiful, releases today from Disney-Hyperion.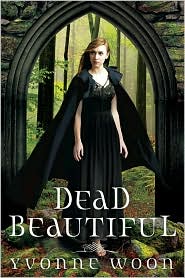 Dead Beautiful was an exceptionally rewarding book to work on, and has the wonderful mixture of literary and commercial qualities that we are all looking for in a novel. Already garnering a ton of great reviews, be sure to pick up this outstanding novel and get ready to fall in love with Dante and Renee.
Congrats, Yvonne!
Early reviews for Dead Beautiful:
"Anyone who reads knows that vampires are in. But this hefty novel takes a new and unconventional look at the undead, focusing on story and interesting characters and leaving gore and mayhem hidden in the background…Well written, intriguing and, above all, different, this story ends with much to explore in what one hopes will be swiftly forthcoming sequels.
—Kirkus (Starred Review)
"Boarding-school story meets Murder, She Wrote meets the Twilight series in this nifty title, which also offers an attention-grabbing take on zombies. Detailed world building and setting contribute as much to the story as character and plot. Atmospheric touches such as school rituals, classes like Imaginary Arithmetic, and the use of Latin as the "insider" language all add to the ambience… give this to the earnest Twilight crowd but also to teens who like impossible love stories with supernatural flavor.
—Booklist
"It's a Harry Potter start and a Twilight finish"
—Publishers Weekly